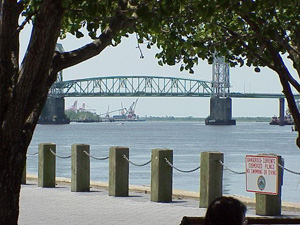 Bringing new jobs and corporate investment to New Hanover County will rank among my highest priorities. Doing this requires state support for programs, policies and assets that spur economic development in New Hanover County.
Infrastructure Modernization-  The county's infrastructure must be aligned with the needs of the 21st Century global economy. Wilmington's role as "North Carolina's Gateway to the Global Economy" is based on the competitive posture of the Port of Wilmington. Similarly, Wilmington International Airport is another economic asset that connects our business community to the lucrative opportunities around the world. Modern highways and rail service are critical links that make many counties in the district a viable destination for inter-modal commerce. As your County Commissioner, I will work to bring state and possible resources to our county to enhance and improve these vital infrastructure assets.
Workforce Innovation- We must complement our hard infrastructure with equally competitive human resources. This county is a Mecca for well-educated, talented people from all over the world. But there remains a large population of displaced workers in need of re-training for the jobs of tomorrow. I will work closely with our Universities, K-12 school systems and Community College to tap state and possible federal resources for education and training programs that match our hard-working citizens with sustainable employment. Workforce readiness is a key path to the economic prosperity our county's needs.
Commitment to Economic Diversity- Our countiy's economic landscape is a diverse mix of traditional and more modern industries, and we must work to maintain that diversity so that there are opportunities for all of our citizens. I will work closely with our economic development community to ensure that New Hanover County will be visible to the national and international business decision-makers.
Retaining and Growing Existing Businesses- Maintaining economic diversity begins with retaining the companies and jobs already here. On average, about half of all new jobs in any community come from business already there. My door will remain open to the business owners, plant managers and company executives who are the foundation of our business community. I will invite their candid feedback and input on how government can help them grow and prosper, and I will join our economic development leaders in putting those ideas into action.
Job Creation Incentives– As your County Commissioner, I will continue to build on the solid pro-business record I compiled as a local government leader. At the heart of my economic development vision is close collaborative partnerships between the public and private sectors, both of which are needed to ensure continued prosperity. North Carolina has a history of government-supported economic development that dates back over a century. When we invest public funds to build highways and port facilities that bring companies and jobs that is an incentive. When government invests in high-performing schools, safe streets and modern recreational amenities- and jobs, businesses and talented people arrive as a result, and we've utilized incentives. Nobody disputes that. But in today's highly competitive world, incentives must also take the form of direct risk sharing between companies and communities. I will continue to support the use of performance-based financial incentives in order for our county to enjoy the benefits of high-quality job creation.